What is B.Sc in Animation?
Animation is one of the most sought-after careers in the industry. It is one of those courses which guarantee you a prosperous future by the end of it. A B.Sc in Animation is a three-year undergraduate degree which helps students to become their best version of professionals. They are able to enhance their careers.
This graduation degree encapsulates everything a student needs to learn to become an animation professional. They can learn everything from the grassroots till the end of creative industry-level tools. It goes without saying that a B.Sc degree is the right way to go if someone wants to build a career in animation which is long-lasting.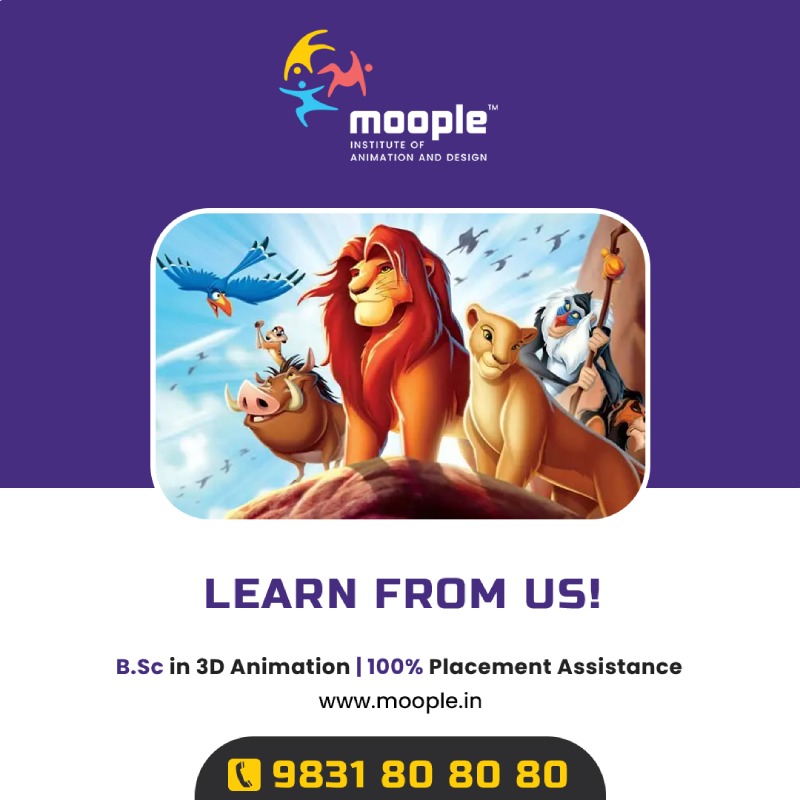 What is a VFX course?
VFX stands for visual effects. It is the most utilized part of post-production. Whether someone is making a film, ad or even a TV show; there are visual effects used. There could be no better option than selecting a VFX course if you feel interested in the technical, commercial, or animation fields. If you want to use visual effects or CGI to convey your creativity, you might think about taking this course. All this creativity is digitally transformed to create animations, graphics, and other visual tools. As a result, there are more career prospects for VFX in Kolkata due to the growing need for VFX professionals. You have great potential to advance your career in technology and entertainment.
Moople Institute of Animation and Design offers the most comprehensive VFX course in Kolkata. This is an industry-oriented training program which will launch your career with its 100% placement assistance.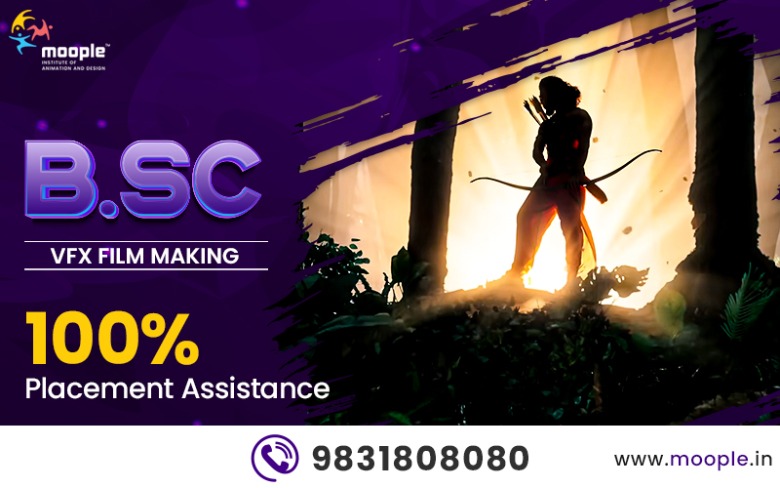 Why is Moople the best for BSc animation and VFX training in Kolkata?
Moople Institute of animation and vfx courses has set a benchmark when it comes to provide any kind of multimedia training. Among all the B.Sc animation colleges out there; Moople is definitely the first choice among students in Eastern India.
The courses have been curated by trained professionals who have excellent experience working in the industry. With state-of-art technology, classrooms and efficient learning, this institute has set itself apart from typical colleges.
The degree courses have been affiliated with MAKAUT. This makes it legitimate and career-expanding for the masses. Additionally, students get to experience live studio exposure too. No other institute in this region provides that.
Upon the successful completion of the training, all students are assisted with 100% placement assistance. Some of the top studios and companies from across the country choose to recruit from Moople Institute of Animation and Design. Contact us to get a free counseling session and find out more.
What is the scope of B.sc animation?
A professional animator is needed for every new entertainment form and platform that emerges as a result of the country's rapid increase in internet connectivity. As a result, B.Sc. Animation opportunities in India are always growing.
Candidates with BSc Animation degrees frequently find employment in the animation and multimedia fields all around the nation as 3D animators for web design, movies, television, and other kinds of interactive media.
The BSc Animation program gives qualified individuals a solid grounding in the fundamentals of art and design as well as the technical abilities required for a career in animation.
One of the industries that are on the rise and have expanded from a narrow perspective is the animation and gaming sector.
What is the scope of VFX jobs in Kolkata?
VFX jobs in Kolkata are rapidly increasing. Kolkata has become the hub of production over the past few years. The range of authentic content in this city has increased rapidly. In fact, there is a great amount of scope available for people who are willing to make it as VFX artists.
The number of production studios hiring here has also increased to a major extent.
With Moople's placement, you do not have to worry about finding a good job in Kolkata. In fact, the best students in the class get an opportunity to be hired with Moople's production wing, i.e. Hi-Tech Animation. The rest of the students are also assisted with placements until and unless properly placed.