Table of Contents
# The global place for graphic designers
# Role of graphic designers in PWC
# Moople institute training programs as complete support for job seekers
As the scientific world is moulding, the world is reaching the doors of individuals offering multinational jobs with requisite skills. Graphics design courses in Kolkata train students to acquire job opportunities from global companies due to the rising importance of visual communication and demonstration in today's digital world.
Renowned companies hire brilliant and talented graphic designers to create adaptive visual content for their branding, marketing campaigns, website creation, and social media exposure. Many multinational companies offer remote job opportunities to strain fresh intellectuals from distant nations.
The global place for graphic designers
Graphic designers can work on diverse projects, collaborate with international teams, and gain exposure to different cultures and markets. As the demand for visually appealing and engaging content increases, the number of job openings for dynamic individuals rises. Moreover, multinational companies offer promising career prospects for graphic design students to showcase their creativity and skills on a global scale.
Individuals learning graphic designing courses in Kolkata can convert their conventional designing patterns and drawing techniques into career-oriented ones from expert teachers. They can aim for better job prospects with new techniques and tools to design images, videos, or animations. Moreover, they can remotely convey their ideas to clients and teams from other countries.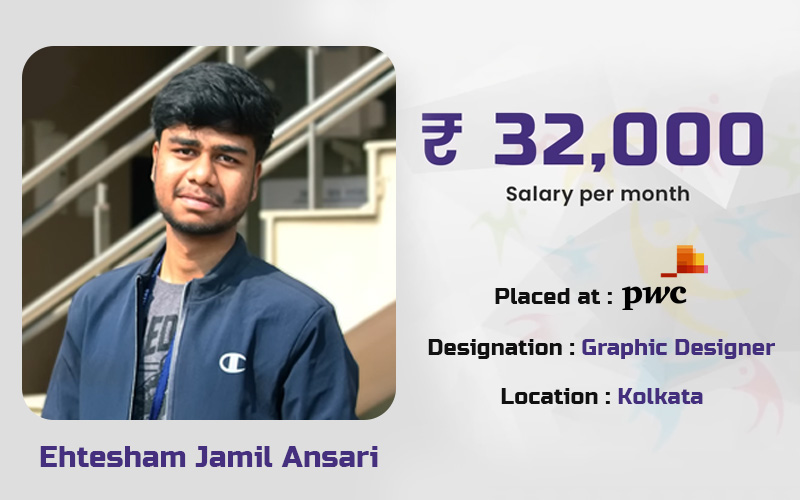 This way, they can expand their reach and client bases. They can further use online platforms and marketplaces to work on international projects, making it a truly global profession with boundless possibilities.
What is PWC?
PricewaterhouseCoopers, or PWC, is a multinational professional services network with the largest accounting firms in the world. It provides audit and assurance along with tax and business consultation services. Many Indian students studying in graphic design training program in Kolkata to get multiple options in the organisation to progress as professionals.
Multiple industries, like technology, financial services, healthcare, energy, retail, and more, come under its jurisdiction. The firm offers services to small or large organisations, from small businesses to multinational corporations, and works equally with the private and public sectors. Here are some prominent sectors that recruit professionals in PWC.
PwC creates independent audits and provides assurance services to verify the accuracy and reliability of financial statements for different organisations.
Tax planning to help clients optimise their tax strategies and comply with tax laws and regulations is another vital contribution of the reputed firm.
It also helps businesses to improve operational deficiencies, manage risks, and achieve strategic goals. It includes technology implementation, cybersecurity, data analytics, supply chain management, and human resources.
Strategic development, organisational restructuring, mergers, performance improvement, and innovation initiatives become convenient with the intervention of PWC.
Role of graphic designers in PWC
Specific graphic design roles with specialised design techniques leverage professional skills within various projects and departments at PWC, depending on the requirements and demands of the organisation and its client bases.
Graphic designers can support marketing and communications areas. For instance, they can work on designing promotional materials, visual presentations, developing infographics, or working on branding improvements.
They can also work on projects on user interface and user experience design. Therefore, they help by creating interactive and clean visual content for user-friendly digital interfaces for PWC's technology solutions or client projects.
PWC accept individuals from graphic designing courses in Kolkata to develop visually engaging training materials, electronic learning modules, or interactive presentations to promote learning and development needs.
They also maintain and enhance the organisation's internal design standards by creating templates, designing communication materials, or assisting with branding.
Moople institute training programs as complete support for job seekers
Moople Institute is a graphic design art institute in Kolkata helping several aspirants to reach top companies and explore their intellects and capabilities. The training programs focus on giving impetus to new ideas and technologies. Thus, students actively participate in the programs through classes, workshops, presentations, and practicals.
Many learners from Moople Institute have gained reputed positions in their job places through our job consultations and personality development programs. Our firm aims to provide 100 per cent job assistance and placement guarantee for youngsters. Moreover, every student aspires to become famous and prosperous in their career.
Our graphic design art institute in Kolkata just oils the lamps of creative minds, and they emerge as bright stars in the darkness. We train students with sophisticated equipment, digital tools, a modern learning environment, professional coaching, and industry exposure.
For instance, students are allowed to get an internship in a leading firm for a short duration, after which they get their degrees or diplomas. Therefore, they get hands-on experience in the field while gaining real-time knowledge about work procedures. Finally, they can present themselves in front of employers confidently and tackle issues in their work profiles.
Conclusion
Moople Institute students get a deep understanding of concepts from the training programs and talented faculties. Therefore, their inefficiencies and inconsistencies vanish under professional guidance, and they can create magnificent ideas for visual content using their design aptitudes.